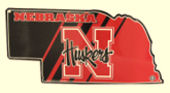 Nebraska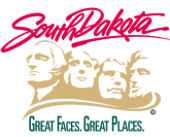 South Dakota

Get Quote


Join the NRA

South Dakota Whitetail Deer Hunting, Archery Whitetail Deer Hunts
Email (719) 591-8934

South Dakota Deer Hunting is a "Hot Spot" for Trophy Whitetail Deer.

"South Dakota is the land of Great Faces and Great Places"
with endless opportunities

D&E Outfitters takes very limited South Dakota trophy whitetail deer hunters per year between weapons.

D&E Outfitters focuses our business on repeat hunters. "COME A STRANGER AND LEAVE A FRIEND"

Photo Gallery for South Dakota Whitetail Deer Hunting

West River Deer season includes most of South Dakota west of Missouri River and outside of Black Hills. The short grass prairie is home to mule deer, with whitetails scattered along drainage's, and wooded areas.

Our trophy whitetail deer hunts are

"Free Ranging Wild Deer Fair Chase Hunts

". 

Whitetail deer numbers in our areas are good, and you can expect to see numerous bucks each time you take a stand.


D&E Outfitters trophy Whitetail Deer Management program are key factor in our successful Outfitter operation.

- Our goal is to harvest mature trophy whitetail deer over 135". 

- Each whitetail buck deer harvested needs minimal of 4 points on one side. 

- Good food sources, genetics, predator control, and harvesting only mature trophy whitetail deer. 

- To help keep our buck to doe ratio in check.  We doe hunt as needed allowed by regulation. 
South Dakota Whitetail Hunt Details


South Dakota Deer Hunting Schedule and Prices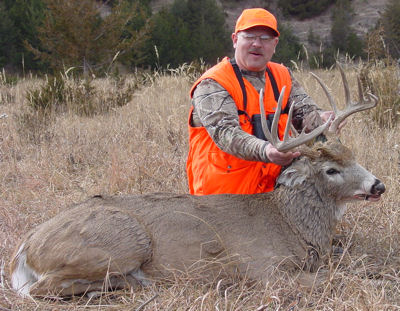 Price:

4-day "Rut" Guided Whitetail Deer Rifle Hunt:
4-day "Rut" Semi-guided Whitetail Rifle Hunt:

5-day Guided Whitetail Deer Archery or Crossbow Hunt:
5-day Semi-guided Whitetail Deer Archery or Crossbow Hunt:


South Dakota Whitetail Deer hunts dates:

*Archery: Sept 26 to Dec 31

*Rifle: Nov 7-10
Nov 14-17
Nov 19-22
Nov 23-27

Contact us form to book your hunting adventure.


*Tipping is customary saying thank you to those involved who made your trip enjoyable. The industry standard for a hunting Tip is 10-20%.

*Non-Hunters are welcome to come. The fee is $400 per individual (with a maximum of 1 per paid hunter).

Guided South Dakota Whitetail Deer Hunts: we provide 1 guide per 3 deer hunters. As deer hunters fill their tags, guides free up to spend excess time with remaining hunters. After a deer is harvested, pictures taken, your guide will field dress your whitetail deer, and then bring you, and your whitetail deer to be processed (clients are responsible for this fee).

Fully guided whitetail deer hunts include lodging, meals, field transportation and field care.
Not included: licenses, permits, meat processing, taxidermy, any shipping cost and cost accrued getting to and from point of hunting location.


Semi-Guided South Dakota Whitetail Deer Hunts: we show hunters land boundaries, give our local perspective, and detailed scouting information. When you arrive some tree stands will already be set-up strategically where we have studied buck patterns to enhance opportunities.
Not included: field transportation, lodging, meals, license, permits, meat processing, taxidermy, any shipping cost, and cost accrued getting to and from point of hunting location.

---
Return to topic list
South Dakota Whitetail Deer Hunting Permits
All Whitetail Deer licenses in South Dakota must be applied for. We will assist you in applying process of obtaining South Dakota whitetail deer rifle or archery deer permits & license.

*Archery tags are available with no quota and no deadline.

*Licenses can be applied for at South Dakota Game, Fish, and Parks website, www.gfp.sd.gov/hunting/

*Deer application deadlines are early April to later July, depending on tags applied for.

*Between drawings available for deer, draw success for licenses is 80 to 100%. with a preference point 100%.

*Residents and Non-Residents must be 12 years of age. Hunters under age of 16 must be accompanied in field at all times by parent, guardian or responsible adult who is at least 18 years of age.

NON-RESIDENT PERMIT PRICE:
- West River Special Deer $560
- West River Deer $286
- Archery Deer $286
- Doe permit $80


HUNTER SAFETY REQUIREMENTS:
- All hunters under age of 16 need a hunter's safety card in South Dakota.

BOWHUNTER EDUCATION REQUIREMENT:
- All big game archery licensees under the age of 16 (11-15) must possess a National Bowhunter Education Foundation (NBEF) certificate or certification of completion from a bowhunter education course approved by any state or provincial government.
- All first-time archery big game licensees regardless of age must possess, a National Bowhunter Education Foundation (NBEF) certificate or certificate of completion from a bowhunter education course approved by any state or provincial government.
- Applicants who have held a big game archery license in the past may apply for deer and without completing an NBEF course. If they indicate on the application the year, state or province that a former archery license was obtained or help.
APLICATION DATES (2015):
First Deadline - Applications must be postmarked no later than July 17, or apply online by 8:00 a.m. CDT July 22. Results available online by July 31. One application may be submitted per applicant. (residents and non-residents)

Second Deadline - Applications must be postmarked no later than Aug. 14, or apply online by 8:00 a.m. CDT Aug. 19. Results available online by Aug. 21. Those who do not already have a license may submit one application. (Residents Only)

Third Deadline - Applications must be postmarked no later than Aug. 28, or apply online by 8:00 a.m. CDT Sept. 2. Results available online by Sept. 4. Anyone may apply for additional licenses (five maximum for the season). Licenses remaining for this drawing are pooled and made available to both the resident and nonresident drawings. (both residents and non-residents)

Leftover Licenses - After the third deadline drawings, licenses remaining will be issued first-come, first-served. Licenses are available to individuals whether or not they already have a license. An individual may have unlimited number of West River deer licenses for any unit or combination of units.

---
---
Return to topic list
South Dakota Whitetail Deer Hunt Info
Our South Dakota whitetail deer hunting terrain is diverse, varying from creek and river country, to cultivated fields of alfalfa, corn and wheat, to vast open range rolling hills. Whitetail hunters are positioned overlooking river bottom openings, travel funnels or bluffs where deer go between feeding and bedding areas.

Private Land Hunts with 4x4 vehicles to ensure low impact and high success.  


Our South Dakota whitetail deer hunting grounds can accommodate most whitetail deer hunters of any age and hunters with disabilities or challenges.


South Dakota Whitetail deer hunts we use traditional whitetail deer hunting methods: ground blinds, propositioned tree stands, and some spot and stalk.  As the hunting changes we adapt, and use the best hunting method.  Our hunters that are flexible, and patients have very good deer hunting success.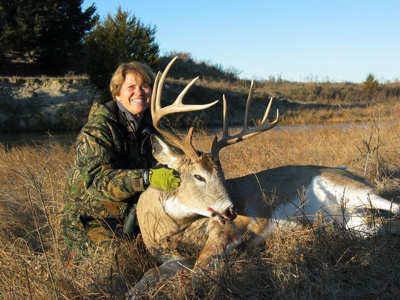 Commute to whitetail deer hunting locations on average is 5-35 minutes.


Hunter Orange is required by all deer hunters except archers. When whitetail deer hunting during authorized firearm season you have to display solid orange on your head, chest and back of least 400 square inches of hunter orange material. 


Limited deer hunters along with some doe hunters taken yearly.


Rifle, Crossbow and  Archery deer seasons are during November "Rut" with whitetail bucks on the move.
  

Shots are normally are between 50 to 200 yards for rifle whitetail deer.  Archery and crossbow whitetail shoots are 15-50 yards.


Rifle: we recommend flat shooting whitetail rifle you can effectively shoot, limbsaver recoil pad, highest quality variable scope, muzzlebrake, and a bipod. 



Great whitetail deer hunting calibers: 270 win, 270 WSM, 30-06, 7mm rem mag, 7mm WSM, 300 WSM, or 300 win mag.  



Most important bring a gun you can shoot straight without flinching! You need to shoot your rifle often before your hunt to be proficient.



Premium grade ammunition and bullets are a must that have a high ballistic coefficient.



Good ones: Federal Premium Trophy Bonded Tip Ammo, Barnes VOR-TX Rifle Ammo TTSX, Remington Premier Scirocco, Winchester XP3 Ammo or Nosler Custom Trophy-Grade Ammunition. Buy one of the best!


We recommend bullet weight of 140-180 grains. 
 

Make sure guns trigger has a safe, light, crisp tripper pull.  Bring your deer gun to a gunsmith, and have trigger adjusted. This will greatly help your accuracy.


Install a muzzlebrake to reduce recoil, and help your accuracy. 


Hunter need to be shooting 3-5 shots in 1" to 1.50" group at 100 yards.  If not, there is a problem that needs to be fixed before your hunt.



We recommend sighting your rifle 2 inches high at 100 yards.  This should have most whitetail deer rifles good out to 300 yards.
  



Archery is exciting way to hunt trophy South Dakota whitetail's with excellent chances for Pope & Young trophy whitetail deer. 



You need to be able to hold the draw as needed and shoot with pin point accuracy.



PSE, Matthews, Hoyt or Bowtech bows are all good. 



50 pounds minimum draw weight!


Strong board heads fixed or mechanical:  Mechanical: Rage Hypodermic, New Archery Products (NAP) Kill Zone or SpitFire MAXX. Fixed: G5 Striker Magnums or Muzzy MX-3.  We recommend using 125 gr boardheads for more kinetic energy.


South Dakota whitetail deer bow hunts always bring a spare release.


Lazar Range Finder is a must for South Dakota archery whitetail deer hunting.


Archery whitetail hunters need to shot comfortable out to 50 yards. We will work hard to get our bow deer hunters as close as possible.


Our archery whitetail deer hunts have been very successful with multiple chances using highest quality equipment.




Crossbow can be used if you have authorized permit from SDFG during archery season.  Our hunters have used the Ten Point Turbo XLT, and StrykeZone 380 with excellent success.  Broadheads used have been Grim Reaper Crossbow Broadhead and the NAP F.O.C. Crossbow Broadhead.            
---
Return to topic list
Lodging-Meals, South Dakota deer Hunts
Lodging (Hunts that include lodging and meals) is very clean, and comfortable with all the conveniences of home. A maximum of eight deer hunters in camp at any time allows for a home-style atmosphere, and individual attention for everyone.


Breakfasts are light and quick consisting of dry cereals, instant oatmeal, pastries, toast, and fruit. There will also be assorted juices, and coffee.

Lunch, you will pack your own lunch of cold-cut sandwiches the night before. Along with sandwiches there will be fruit, chips, crackers, sweets, and water. There are plenty of choices to pick from. We recommend you pack a hearty lunch then you are use to so we can maximize hunting time. We have found South Dakota fresh air always increases appetite.

Our South Dakota Dinner, meals will consist of salad, casserole dishes, meat dishes, or crock-pot meals, vegetables, rolls and dessert. Meals are hearty and home-made and very delicious!

If you have any meal concerns or special meal needs please bring it to our attention before or when booking your hunt.
Also you are more than welcome to provide your own snacks or soft drinks of your liking to bring on the hunt.
Food and water are always available to you. No one goes hungry. The biggest complaint we get is a person weighs more at the end of their hunt than upon arriving.


If you enjoyed our meals, keep the cook in when mind when you consider gratuities.


Alcohol is not provided, but is allowed after hunting is done for the day. Intoxication will not be tolerated.
---
Return to topic list
Meat and Taxidermy - South Dakota
A problem a deer hunter faces who has just driven or flown across the country to go on a deer hunt is how to get the meat, cap, and antlers safely home. Please read below on what we have learned and know:
Ensure you know South Dakota, states traveling thru and state you live in big game transportation and importation laws, and any other legal requirements in this area. This is your responsibility.
After any deer check requirements are completed. One option, on ranches we hunt there is a water source, and place to hang and breakdown your own deer.


Check with your airline or ground carrier about any restrictions about transporting meat/cape/antlers.


Keeping same airline on connecting flights will help avoid luggage issues.


Some hunters that drive will put a freezer in the back of there truck or in a utility trailer which can be plugged in or ran with a generator.

Use coolers for transporting your meat and cape.

Flying: duct tape coolers shut after you get to the airport in case they need to open, and pack them as tightly as possible with frozen solid meat.

Driving: use duct tape to hold lids tightly shut. This keeps out air, even when the truck is on rough roads, and hits bumps.

If you fly, once the meat is processed, and frozen, it can be boxed, and checked as excess baggage. Meat should be frozen as dry ice is not allowed on some airlines.

If you fly, a Cape can be frozen, and put in a cooler then checked in or checked as excess baggage.

Antlers can be packaged and shipped by mail or checked as excess baggage.


We have an excellent local meat processor that will try to have your deer packaged, and frozen by the time you are ready to leave for home.

The cost for basic processing averages $125 and $25 additional for capping.


If you do not wish to take your meat home, arrangements can be made to have it donated. You are still responsible for the processing fee.


The butcher will not accept deer for donation unless the processing fee is paid at time of drop off.


US Mail, UPS, or FedEx, we have had hunters use all with good success. To make this work best with perishable items. They need to be shipped out at a office by the main airport you fly into. Reason, where we are located in South Dakota we are far away from the interstates and major airports so everything is Ground shipment first, then overnight so "overnight" actually turns into 2-3 days.
Note: if shipping nonperishable where time isn't a factor. We have a Post office and drop boxes for UPS and FedEx in our local areas.

Award Winning Local Taxidermist is available to mount or expedite your trophy. They are very knowledgeable, and highly skilled on all species we hunt. This is an easy and efficient way to handle your taxidermy needs. Most often they will often do a better job than someone who has seen few of the particular animals from our areas.

We highly recommend Tall Tails Taxidermy Studio, LLC in Burton, NE. They are a "small Full-Time Taxidermy Studio" focused on providing high quality taxidermy within a reasonable time period, averaging six to nine months. They do everything they can to meet your expectations. Ann and Aimee are very methodical, meticulous, and driven that never settle for second best or "just good enough". I would trust them with my finest trophy.

Studio: 402-497-3360
Ann's Cell: 1-402-376-6379
Aimee's Cell: 1-402-382-8696

Web Site: www.talltailstaxidermystudio.com

Note: They use a highly reputable Concierge Shipping Service that ships from there door to your door that is insured, and bonded.


Note: With all this said above, our hunters are telling us it is best just "to drive when you can". They say with a partner and rotating driving, you can get anywhere within the states in a days travel, which is what you are burning up flying anyway, along with renting a car and driving to us. This way you get to bring all your gear and take everything back and use a meat processor close to home, and your own taxidermist. Our recommendation is to drive if at all possible. Plus, it's nice just to take a day off and do some touring while your deer is being butchered and frozen, and then loading the cooler for the ride home.

You must plan ahead in this area and determine before the hunt how you want to handle your meat/cape/antler needs.
---
Return to topic list
Getting to South Dakota
We hunt near Gregory South Dakota. 

Note: Cell phone reception is minimal in this area.


We expect you to drive to us:

For driving directions to Gregory South Dakota click on the city name in blue, then put in your zip code to Gregory South Dakota.


If flying and hunting near Gregory South Dakota you will fly into:
Sioux Falls then rent a vehicle and drive hours


Pierre South Dakota then rent a vehicle and drive hours


When flying with airlines you need to follow regulations for guns and ammunition, ask airlines for information if unsure.

Call Don on his Cell phone 2 hours prior to arrival, he will discuss with you where to meet.





You need to plan to arrive to camp after 12:00 pm during the daylight the day before your hunt start. After arriving you will get your gear unpacked, and ready, shoot your gun for zero as needed, hunt orientation, and safety brief. 



---
Return to topic list




Wounded Deer Policy


We take great pride in having almost no unrecoverable wounding's since we have been in business, and ask that our hunters show up prepared, and so that we can do our best to keep wounding to a minimum.  



Deer are a precious resource!

If an Deer is wounded during your hunt. We will exhaust all of our efforts to find the animal. If the animal is not found, it is still considered yours, and the hunt is considered completed.  



Deer are a valuable resource that landowner relies upon for financial funds for operation of there ranch/farm. It is not fair to the landowners to allow each hunter the opportunity to potentially kill two animals. In this case, a hunter would, in essence, be potentially killing two animals while only paying for one.  Plus, the next hunter loses from having fewer trophy deer to hunt.



D&E Outfitters believes in ethical fair chase hunting and strive for clean kills.  This can only be achieved by your utmost practice, and preparation for your hunt. Keeping your head in highly intense situations, and walking away or waiting when the shot opportunity is not right. 

It takes a mature trophy whitetail deer hunter to only take shots they know they can make.  It is a must you come prepared being able to use your weapon accurately, and have you and your weapon of choice ready to perform.



---
Return to topic list
Whitetail Deer Hunting Trip Travel Insurance
Hunting out of state is expensive, with life being unpredictable, and the unexpected does happen to everyone. For this reason D&E Outfitters highly recommends buying Travel Guard's Sportsman's Travel Protection Plan Insurance.

You need to make sure it includes cancellation coverage.


Sportsman Travel Protection Plan is one of Travel Guard's most customized packages and idea for traveling hunters. 


It is your responsibility to ensure you, and your hunting investment are covered and protected.

---
Return to topic list
D&E Outfitters Contact us Form
For a great South Dakota trophy whitetail deer hunt! 

Please contact us to discuss our South Dakota Trophy Whitetail Deer hunts.  Call or e-mail D&E Outfitters to book your South Dakota whitetail deer hunting adventure.  Phone: 719-591-8934 or Contact us form

Thank you for visiting and we look forward to talking to you about a South Dakota
whitetail deer hunt!


Contact us today to book your hunt.
---
Return to topic list
---
All Text and Images Copyright D & E Outfitters © 2004